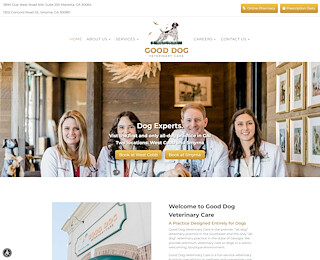 Good Dog Veterinary Care is the first-ever dog-only veterinarian in GA. We have devoted all of our time, resources, and love to treating dogs and making them the best versions of themselves because we love dogs. One of the most routine visits in our veterinarian clinic is for dog vaccinations.
Dog vaccinations in Marietta are highly recommended, and the rabies vaccination is mandatory. Additionally, there is a whole list of other dog vaccinations that Good Dog Veterinary Care would be happy to provide for you.
Should I Vaccinate My Dog?
Vaccination is a very contentious issue in both the human and veterinary fields. Indeed, it seems that every client who comes in has a different opinion on the topic of vaccinations. There are a lot of concerns about how safe and effective dog vaccinations are as well as how often they should be given and whether they should be given at all. So, let's go over a few key concepts regarding dog vaccinations in Marietta.
The first thing that we want to tell you is that you should be the one to decide which vaccine your dog will receive. Your veterinarian should provide you with information to empower you to make that decision. There is no such thing as a one size fits all vaccination plan for dogs or humans. Every dog lives in a different home with different surroundings and travels to different places. All of these factors should be taken into consideration when you are deciding which vaccinations to give your pooch.
What to Consider
The best way to choose the right vaccinations for your pet is to consider the risks that your dog faces. Then, you have to consider the risk of your dog getting the disease versus the risk of potential side effects that rarely come with certain vaccines.
The vaccination plan that we make for a chihuahua is going to be different from a vaccination plan for a pit bull that lives near a ravine and may potentially interact with wildlife. You'll want to change your plan based on where you travel to and if you are going to board your dog in a facility that is regularly exposed to other dogs.
Start the Conversation with Good Dog Veterinary Care
The most important thing that you can do as a dog guardian is to talk to your veterinarian about your dog's lifestyle. Traveling a lot to other locations and contact with other animals are the big things that we look for when recommending vaccinations. Even going to obedience classes, dog shows, and dog parks could all pose risks to your dog's health.
We also recommend that all dogs receive a rabies vaccination because all it takes is a small bite from a bat, a rabid fox, or even for your dog to come into contact with the saliva of another animal that has rabies.
Contact Good Dog Veterinary Care today to learn more about the pros and cons of dog vaccinations in Marietta. Our job is to help you keep your pooch safe, happy, and healthy.